Registration is NOW OPEN for PWSA | USA's 37th National Convention! We invite you to join us June 21 – June 24, 2023, in sunny Orlando, Florida at the Hilton Orlando Buena Vista Palace.
PWSA | USA's Convention will provide exciting opportunities to learn, connect (and reconnect), and hear about the latest PWS research. This amazing event will include Medical & Scientific, Professional Provider, and Family Conferences. We are also honored to host an Externally-Led Patient-Focused Drug Development (EL-PFDD) meeting, which is an FDA program.
Whether you have a loved one with PWS, are a professional provider, a physician, or scientist, the 2023 Convention has something for everyone. Register TODAY by clicking the button below. We hope to see you there!

Get excited, because we are putting a fun twist on our 2023 National Convention Gala event! Attendees are invited to join us for the Hope United Gala, which will take place the evening of Friday, June 23, 2023 from 6:00 - 9:30 p.m. EST. Bring your best singing voice because our special entertainment will be performed by "Fun Pianos," with their amazing Dueling Pianos for Prader-Willi syndrome.
Attendees will enjoy a buffet-style dinner and drinks, and will have the chance to bid on amazing items in our silent and live auctions. Purchase Hope United Gala tickets at the button below, and learn about our Night Under the Stars Gala event for your loved one's living with PWS and their siblings on the Convention Summary page.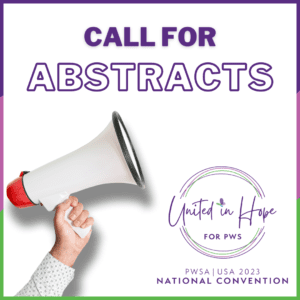 PWSA | USA is welcoming Abstract submissions for a presentation of recent research, related scientific or medical topics on the subject of Prader-Willi syndrome for our 2023 Medical & Scientific Conference. The Medical & Scientific Conference will be held at PWSA | USA's 37th National Convention June 21-22, 2023 in Orlando, FL. The deadline to submit an Abstract is January 31, 2023. Click on the links below to get started!
Abstract Submission Guidelines