Siblings of individuals with Prader-Willi syndrome (PWS) are exposed to a traumatic and stressful environment. Offsetting this exposure with positive experiences and therapies often help siblings get through these hardships. Siblings of individuals with disabilities are often diagnosed with post-traumatic stress disorder (PTSD), anxiety, and depression tied to the stress in the family.1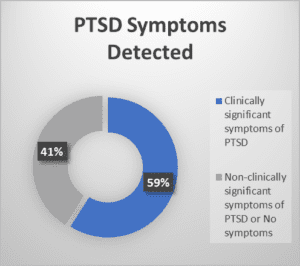 In the extensive study conducted last summer, 59% of the 60 siblings surveyed showed significant symptoms of mental health distress.
Parents are not only dealing with a child with disabilities but often have other children with hidden emotional and mental health issues. The well-being of the siblings is often overlooked because parents, medical and behavioral health providers tend to be hyper-focused on providing care to the child with the disability. However, siblings of individuals with developmental disabilities like PWS have an increased risk of developing behavioral and emotional problems and therefore, need attention and interventions to help them be resilient and live successfully with a sibling with PWS.2
What is Debriefing?
After a meltdown or other traumatic or stressful event, it is beneficial to sit down together as a family, without the child with PWS, and talk about what has just happened.
Why Debriefing is Important?
Family cohesion increases when everyone is on the same page, especially during stressful events or outbursts.3
• A specific plan for these events can reduce the contention between family members and empower those trying to handle the situation.
• These debriefing sessions are a great way to release pent up emotions for each member of the family.
A discussion allows siblings to feel they are a part of the solution.
Siblings and parents can learn from each other if there is an open and honest environment. Sharing perspectives will benefit everyone.
Some Ideas:
The debriefing meeting can be structured with specific questions you systematically review or an informal discussion. Choose whatever style meets the needs of your family.
Timing of the debriefing might work better after the child with PWS has gone to sleep. Maybe as part of the debriefing, unlock the pantry and share a treat together.
Go around to each member and ask how they are feeling now and how they felt during the meltdown/event (make sure parents share as well).4
Try to laugh about what happened. Humor is a great coping mechanism to help move forward. Your child with Prader-Willi syndrome can be hilarious. As one interviewed sibling said, "The hard times are funny after the fact."
Discuss what you could have done differently during the event to make it less negative on the family. Have a specific plan for different types of events. For example, give specific instructions on what a sibling is expected to do during a meltdown (e.g., go to your room, lock your door, put in your headphones and listen to music; walk across the street to your friend's house; go get in the car).
Discuss what everyone did well and what worked.
Let the discussion flow and go wherever it goes.
Try not to judge or invalidate anything said even if it is hurtful or hard to hear. It is okay if sometimes your children do not like their sibling with PWS or they do not agree with how a parent handled the situation. They need to be able to express their honest feelings.4
Seek help from a professional.
Contributed by Jane Thornton, Emma Thornton, and Laura Bennett Murphy PhD
About the Authors:
Jane Thornton is a Junior at Utah State University studying social work. Her sister Kate with PWS is two years younger and has had a profound influence on Jane's life. At fifteen, Jane was diagnosed with Post-Traumatic Stress Disorder from living with the constant stress of the syndrome. Their relationship was rocky in their teen years, and at one-point Kate ranked the members of her family and Jane was 9th in her family of 7! As she struggled through the challenges of being Kate's sister, Jane began to research and write about the effects of having a sibling with a developmental disability, specifically Prader-Willi syndrome. She is currently working on research with Dr. Laura Bennett Murphy studying the effect Prader-Willi syndrome has on siblings and formulating precautions, measures, and best practices to improve the lives of families and siblings. Jane, Emma, and Dr. Bennett Murphy presented findings from this study at the national conference in October 2019.  Two years ago, Jane created a PWS sibling support group with the help of Dr. Bennett Murphy. The group meets several times a year and held a weekend retreat this past summer in the beautiful mountains of Park City, Utah. The sibling support group continues via zoom during the current pandemic.
Emma Thornton is a Junior at Utah State University studying English Literature with a plan to attend medical school. When she was four years old, her youngest sister Kate was born with Prader-Willi Syndrome. Emma grew up as a supplemental caregiver for her sister. Kate will admit that Emma is her favorite in the family hierarchy, with mom, her food boss, coming in dead last.  Through the prolonged care and experiences with her sister, Emma has been motivated to devote time to research surrounding the topic of Prader-Willi Syndrome. Emma has worked with Dr. Jennifer Miller in researching the prevalence of RSV in babies with Prader-Willi Syndrome. The results of this study will soon be published.  She has also worked extensively with Dr. Dave Viskochil, Utah PWS clinic director and geneticist, to research and update best practices for Prader-Willi Syndrome Multi-Specialty Clinics. Emma presented her findings of this research at the at the national scientific conference in 2019.  She was also involved in creating an ongoing PWS sibling support group with the help of Dr. Laura Bennett Murphy. Emma's claim to fame is spending a summer helping Kate create an encyclopedic website of thousands of the Power Rangers.  You can check out their work at: https://ninjasteel29.weebly.com/
Laura Bennett Murphy, PhD is an Associate Clinical Professor of Pediatrics at the University of Utah School of Medicine and practices at Primary Children's Hospital in Salt Lake City, Utah.  Dr. Bennett Murphy is currently the clinical psychologist for the Utah Prader-Willi Syndrome Medical Clinic. She is an expert in childhood trauma and presents widely on how children and families cope with adversity.
References
(1) Lauderdale-Littin, S., & Blacher, J. (2016). Young adults with severe intellectual disability: Culture, parent, and sibling impact. Journal of Intellectual & Developmental Disability, 42(3), 230–239. doi: 10.3109/13668250.2016.1230843
(2) Milevsky, A. (2014, June 6). Siblings of Children with Disabilities. Psychology Today. Retrieved from https://www.psychologytoday.com/us/blog/band-brothers-and-sisters/201406/siblings-children-disabilities
(3) Tharaldson, J. (2015). The Five R's for Creating Family Cohesion. Prairie Care. https://www.prairie-care.com/blog/the-five-rs-for-creating-family-cohesion-by-jason-tharaldson-lmft/
(4) Davis, J. A. (2013, February 12). Critical Incident Stress Debriefing from a Traumatic Event. Retrieved from https://www.psychologytoday.com/us/blog/crimes-and-misdemeanors/201302/critical-incident-stress-debriefing-traumatic-even