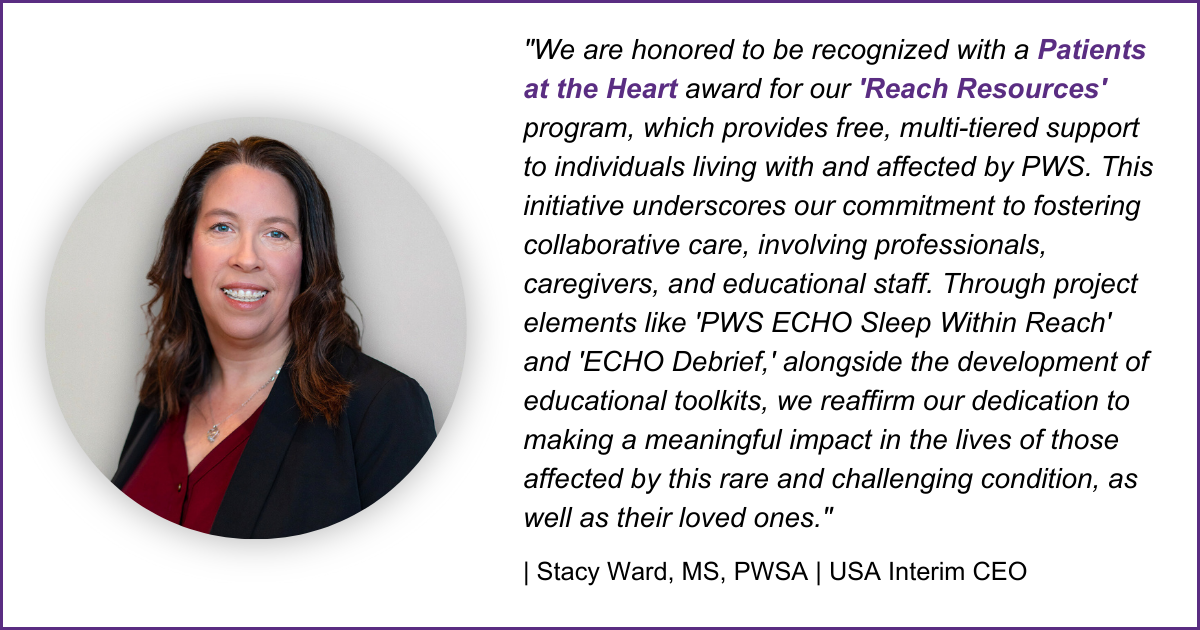 About Harmony Biosciences Patients at the Heart Grant
Via Harmony Biosciences Press Release:
Harmony Biosciences Holdings, Inc. ("Harmony") (Nasdaq: HRMY), a pharmaceutical company dedicated to developing and commercializing innovative therapies for patients with rare neurological diseases, has selected the latest round of nonprofit organizations for its Patients at the Heart and Progress at the Heart awards. These awards provide funding to nonprofit organizations committed to addressing complex challenges faced by individuals living with sleep disorders and rare neurological diseases through unique and impactful initiatives.
Over the past four years, Patients at the Heart has supported 24 initiatives aimed at addressing the comprehensive needs of individuals and their families affected by sleep disorders and rare neurological diseases. This year, Harmony Biosciences selected four organizations as Patients at the Heart and Progress at the Heart recipients.
PWSA | USA Selected to Educate Sleep Affects in PWS
PWS Sleep Within Reach Resources
This program educates health care professionals, caregivers of people with Prader-Willi syndrome (PWS), as well as residential and educational staff on the most misunderstood forms of sleep disorders, including those among people with PWS. More details coming soon!
About Harmony Biosciences
At Harmony Biosciences, we specialize in developing and delivering treatments for rare neurological diseases that others often overlook. We believe that where empathy and innovation meet, a better life can begin for people living with neurological diseases. Established by Paragon Biosciences, LLC, in 2017 and headquartered in Plymouth Meeting, PA, our team of experts from a wide variety of disciplines and experiences is driven by our shared conviction that innovative science translates into therapeutic possibilities for our patients, who are at the heart of everything we do. For more information, please visit www.harmonybiosciences.com.