Contributed by PWSA | USA Alterman Family Support Counselor, Kim Tula, MS, CSW and Medical/Research Coordinator Lynn Garrick, RN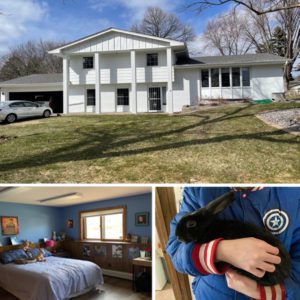 AME Community Services, Inc in Hastings, Minnesota is a company committed to supporting individuals with disabilities to achieve their goals, big or small.  AME currently has 11 Prader-Willi Syndrome specific group homes, which are licensed through the Minnesota Department of Human Services. According to Lynn Garrick, Regional Program Director at AME and Medical/Research Coordinator at PWSA I USA, each PWS-specific group home houses three to four individuals between the ages of 16 and 69, but is open to serve people of all ages.
AME Community Services provides a safe and secure home for individuals with a variety of needs related to PWS and with varying levels of support. The most common level of staff support is 1:2, one staff for every two individuals. However, AME also provides support to individuals who require additional levels of support, such as 1:1 staff support, and at times, 2:1 support.  According to Lynn, the ratio of staff to the person supported is based on the individual needs of the person to ensure safety, both in the home and in the community.
While many group homes have 24-hour staff assistance, AME's overnight staff supervision is determined based on individual needs, with the least amount of restriction possible to maintain the safety of all the residents in the home. AME has found it is possible to have sleep staff in some of their PWS-specific homes where the individuals are not at risk of eloping. In homes with sleep staff, the kitchen cabinets and garbage are locked and often alarmed if the people living at the home are best supported by alarmed doors.  Lynn states, "Usually, the people we support feel less anxious about food security when they know the kitchen is alarmed and they won't have access."
Food Security
Food security is often one of the top concerns for families looking to move their loved one with PWS into a supportive living environment. When asked what measure AME takes to ensure food security, Lynn spoke to how food security is woven into every part of their services for people with PWS.
"Our kitchens are locked and, in some cases, alarmed when staff is not present to monitor. When there is an open floor plan, additional measures are taken to ensure food security, such as locked or alarmed cabinets, refrigerators, storage areas, and additional staffing."
When going into the community, Lynn said, "Staff accompanies the people we support to all outings where food is present and make a 'food plan' ahead of time so the individual knows what to expect and can make choices when available. We strive to help people with PWS to access their community and favorite activities while minimizing the anxiety around food."
In following the philosophy of accommodating individual needs, AME does have some homes where individuals can manage their anxiety related to food, or have a less intense drive for food, and help in the planning and cooking of meals with staff support. Individuals who have demonstrated they are capable and choose to participate in cooking programs start with one planned day each week. On this day, they are responsible for choosing and planning a dinner with staff support to be shared by all the residents of the home. These individuals work with staff towards specific goals like creating a meal plan that meets their individual preferences, nutritional needs, and recommended daily caloric intake of everyone in the home. Staff help with planning a shopping budget and grocery list, and provide support while grocery shopping for ingredients. Together, staff and residents learn how to read nutrition labels, weigh, and measure ingredients to follow a recipe of their choice. Residents learn about kitchen and food safety while practicing universal precautions and sanitary practices during prepping of ingredients, cooking, calculating, and measuring individual portions, and get to serve their meal at a family-style dinner for housemates and support staff to enjoy together.
According to Lynn, this program is helping to support our residents who have personal goals related to living more independently in the future. Residents learn skills to help foster self-sufficient habits at home, while participating in their community. As providers, we are learning to identify and use new support strategies that build self-regulation skills in our PWS individuals. These skills support the goals of our residents by allowing them to learn personal strategies to combat food-related behaviors, emotions, and anxieties they will encounter when living in a less food-secure environment. Additionally, these skills help expand employment opportunities for PWS individuals with new job possibilities in workplaces where total food security cannot be provided.
While this type of program is not appropriate for all individuals with PWS, some individuals are able to thrive with appropriate support.
Behaviors and Crisis
Many families within the PWS community understand the struggles when a loved one with PWS has intense behavioral needs or when they are in crisis. When asked if AME is able to provide services to individuals with high behavioral needs, Lynn stated, "Yes, we pride ourselves on supporting individuals with high behavior needs and have experienced success among individuals considered 'in-crisis' upon intake. We've helped these individuals get back to regular attendance at their schools and day programs, expanded their interests in leisure activities, and helped enable safe and extended overnight visits with and to their family and friends' homes again."
In addition to behavior support, AME encourages their residents to explore all kinds of therapeutic interventions and therapy that interests and engages with their talents. According to Lynn, many individuals regularly attend art therapy, some attend virtual or in-person therapy programs, and others participate in therapy programs that include regular group sessions among their peers, as well as individual therapy sessions on a weekly basis.
"Residents are learning to manage their emotions, anxieties, and behaviors through therapeutic skills like journaling, meditation, and physical exercise related to de-stressing," said Lynn.
Some of the residents at AME are also learning Dialectical Behavior Therapy (DBT) skills that introduce calming strategies like mindfulness and radical acceptance when things are upsetting and out of your control.  AME is truly looking at individual needs of its residents and offering a wide variety of therapeutic services to help them grow and thrive.
A Successful Program
In addition to several therapeutic services, AME has found a variety of proactive measures work best for the individuals in their homes and ensure the success of their programs. Some of the proactive measures that are being successfully used in the PWS-specific group homes at AME Community Services include:
Food security, consistency, consistency in supports by long-term staff who have meaningful relationships with the individuals we support
Diverse, creative, and individualized communication strategies
Supportive and rewarding behavioral support programs are implemented by staff who are well trained in PWS, the individual, positive behavioral supports, and de-escalation techniques
Direct care staff are active participants in the planning process to help guide changes and suggest new and creative ideas
Direct involvement of staff participation in the planning process helps motivate engagement in residents' progress towards their individual goals and outcomes
Utilizing community resources and specialized training programs offered by local professionals and organizations. "We pride ourselves on supporting our staff through offering paid training and certifications in diagnosis-specific support strategies tailored to build the skills, knowledge, and attitudes required of direct care staff working with our high behavior individuals"
We continually seek and provide convenient on-site Inservice training opportunities presented by expert trainers to provide the most current information on behavioral management strategies related to specific behavioral concerns of the population we serve
Facilitate staff training in methods of applied behavior analysis, healthy communication and professional relationships, transtheoretical model of behavior change, crisis prevention & intervention, therapeutic de-escalation techniques, and more
A Non-Conventional Program
We know change is inevitable and the possibilities for people with disabilities, including individuals with PWS, are endless. We asked Lynn if AME currently has any non-conventional group homes for PWS.
"Not at this time, but we're always talking to families and people with PWS about what they want their supports to look like and how we can best serve them," said Lynn.
She did indicate that AME is currently providing in-home staff support services to one individual who lives in her own apartment.  This model of support is new to AME and is continuing to be evaluated to ensure the individual's health and safety. Lynn also indicated that this model of support is not appropriate for most individuals with PWS but some many be successful with appropriate safety measures and support.
Within this more independent model of support for this individual with PWS, staff helps this individual with grocery shopping, meal prep, and cooking dinner in the evening. In addition to meal prep, AME provides staff members for a few hours in the evening to help with monitoring health issues and ensuring medications are ordered, picked up, and administered as prescribed.  The staff ratio in a program like this is 1:1 based off the needed and approved hours. Within the program model, there is a level of acceptable risk that is continuously reviewed. To ensure safety, there are technology supports in place in lieu of 24/7 staff. These include, but are not limited to, a video streaming camera in the main living area, wearable tracking device such as a smartwatch, tablet device, meal prep, and food storage kept secure until an agreed-upon time. They also provide medication administration devices that alert both the individual and support persons if there is a missed dose.
Into The Future
When I asked Lynn where she sees PWS-specific group homes and support in the future, she replied, "I hope that providers and individuals with PWS, along with their loved ones, will continue to work together to grow and evolve to maximize independence, while ensuring adequate support so that people with PWS can meet their individual goals and realize their full potential while living and being supported in settings of their choice.  The way we think of them currently, traditional group homes may always be needed for some individuals. However, the options are endless through continual learning, collaboration, education, mutual respect, and advocacy. We need to look at possibilities first instead of starting with a deficit mindset. I see homes, apartments, cottages, and campus-style communities where acres of food-secure space are provided, both indoors and out. There are also housing developments with built-in slots for community gatherings, hubs for educational, vocational, and recreational play with space to develop hobbies and explore interests, areas to create, celebrate, and socialize with support across the life span, elder care housing, etc. Nothing is off the table. We owe it to individuals and families to lead the way with their creative ideas and unique perspectives to determine the next innovative options for housing and support."
Thank you, Lynn for your dedication to the PWS community, expert knowledge, and hope for the future.
-----------------------------------------------------------
This spotlight on AME Community Services, Inc is the first of a residential series PWSA | USA will feature