Living and Thriving with PWS – The Transition to College
By Derek Montecalvo
The transition to college was stressful. When I moved onto campus, I avoided added stress by using the campus dining hall, and I would shop weekly with my mom to buy groceries to store in my room inside of a mini-fridge and on mini-pantry. The year started out great, but closer to the summer, I was struggling with coursework and dorm-life. I had student accommodations that most of my professors had trouble honoring due to a non-verbal learning disability. Because of that and harassment from other students in my dorm, I exhibited a much higher food drive by eating the weekly food before the end of the week, and using a debit-card to retrieve money to use for vending-machines. I would also use the city bus to travel to the mall and buy food from the food court. My weight skyrocketed – it was more like the freshman 60 instead of the freshman 15. I went from a steady weight of about 160 lbs to a heavier weight of 220 lb.
I ended up withdrawing due to health reasons and went back home. I continued my education in a community college setting. Due to stress associated with squabbles with my parents, my food-seeking behaviors was at an all-time high. I was using money from book buybacks to purchase lunch at the dining hall and to order delivery from local fast food places. I withdrew from the community college and was admitted to multiple in-patient psych visits due to my heightened anxiety and depression over food-seeking. I had reached the point where I was having suicidal ideations, so I was granted services to go into a residential housing facility.
Because I was considered high functioning, I had my own apartment with a roommate and the food was not secure. My roommate also had access to his debit card and food stamps. I would steal them for myself to procure food from either the local food mart or the local pizza shop on the corner. This program wasn't really built for an individual with PWS and didn't consider purchasing healthy foods from reputable sources to help manage food-seeking behaviors and weight gained associated with PWS. After training from Latham Centers, I was put on a weekly menu system which is when I started to boycott again. I stole my money from my financial book to continue to procure food from the food mart, but I also started ordering delivery from an area pizza shop. One night I had a nasty binge where I ended up eating a bunch of food in one sitting that landed me in a 2-week hospital stay due to food-poisoning and bloating. Thankfully, there was no evidence of necrosis.
It was then that I realized I had a major food-drive among behavioral issues that needed to all be addressed. My parents brought my case to the state upon receiving legal co-guardianship of me to help me be admitted to Latham Centers Adult Program. After a six month battle of the state denying me the funding, I was admitted to the Adult program in July of 2012 and started on a restricted diet of 1600 calories a day and eating foods based off of the ADA diabetic diet. I was moved into a lovely house in Barnstable on Cape Cod. I couldn't get day services right away, but I was able to get daily exercise by walking to the town beach for a swim or using the community tricycle on a private dirt road near the house. Entering Latham, I weighed in at a whopping 285 lbs. It was the heaviest I have ever been. Over the course of a couple years, I was able to maintain an exercise routine with my day program and with my housemates. I dropped a considerable amount of weight. Amazingly, I went down to 160 lbs. It was during this time that I met my lovely girlfriend, who also has PWS.
Join us next week for Living and Thriving with PWS – Love, Faith, and Future Grace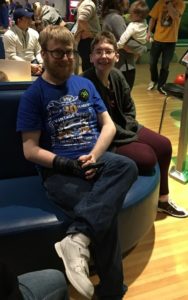 Pictured: Derek (30 years old) and his long-term girlfriend Leona (29 years old).
About the author: Derek Montecalvo is a college student with Prader-Willi syndrome (PWS). Derek has authored a series of blog posts about his journey with PWS and hopes to be a beacon of hope for others that love someone with PWS. Derek is proud of his stripes and no longer afraid of his rare disease and continues to not just live his life – but thrive – with PWS.