As we get ready for the 8th Annual Hot Stove Dinner, which will be held on March 26th at the Key Royale Club on Anna Maria Island, Florida AND online for virtual guests, event host Clint Hurdle takes us on a trip down memory lane! Below, Clint shares how he and his wife Karla created the Hot Stove Dinner, how the event has grown since its inception, and how it supports families affected by Prader-Willi syndrome. We are sincerely grateful to the Hurdles for all of the work they have done to support our organization and community. We hope you will join us in making the 8th Annual Hot Stove Dinner our most successful one yet!
Karla and I have locked arms on this since 2003. Formerly, this event was a golf tournament in Denver, CO, and we ran it there from 2003 to 2010. It was a complete labor of love. Our daughter, Maddie, was diagnosed in 2002 with Prader-Willi syndrome a couple weeks after birth and we just felt moved to find a way to help. Obviously, Prader-Willi syndrome was at a much different place and space than it is now 18 years later. There's been fantastic movement, understanding, increased awareness, and we've done a better job in fundraising. We moved the chains in every significant area as a group, and then Karla and I personally. We thought we'd give it the best shot with the platform that I had at the time with the Colorado Rockies and just see where we could help and how we could help. We raised over $100,000 with this initial event. We then took a couple years off when we made the transition to Pittsburgh.
Which brings us to the Hot Stove Dinner. The Hot Stove Dinner started in 2015 and the idea actually came from PWSA | USA Board Member Stephen Leightman. Stephen and his wife have been very active as grandparents on behalf of their granddaughter. He was doing significant work on the board and was doing investments. Out of nowhere, he came up to me and asked if I'd thought about getting back involved into the fundraising. I think most people who have done fundraising, if you stop for a year or two, it's really easy to be challenged to think about getting back in because fundraising is not easy. I thought about it from Karla's side because she was the one who did all the orchestration and organizing. In the early years, I showed up, played golf, and got a bunch of silent auction items. I was really just there, and my name was used. But as far as activity wise, I was involved about 25% and Karla was involved 100%.
When we started this Hot Stove event, it kind of flipped. Karla needed a break – she was raising two teenage children and I was moving around, out of town two weeks out of every month. So, she said if this is something you get back into, you're going to have to do more of the heavy lifting. Stephen has a persuasive way and I said, 'We'll give it a shot.'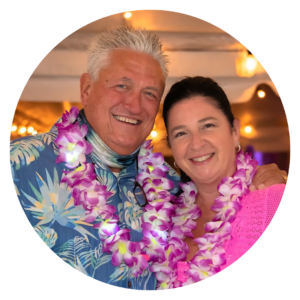 "Hot Stove" is a term used in baseball vernacular for conversations about baseball in the winter when it's cold, especially in the northern states when there's snow, but there's spring training baseball on the horizon. It's something to look forward to. So, the term hot stove actually came about in winter conversations about springtime baseball. We stuck with it and launched the Clint Hurdle Hot Stove Dinner in 2015. We started small again, maybe 75 to 100 people attended. We had a silent auction and a live auction. The Pirates were a big help, but Rikka Bos and I pretty much did all of it. We built it up from 75 people and maybe $60,000 the first year to over $200,000 her last year of helping in 2020. I think the event was held March 13, 2020, and on March 15, 2020, the nation went on shutdown. 120 people still chose to use their feet and their hearts to show up and donate.
After that, we had to move the event. Last year, we moved it during COVID to the Key Royale Club where we live. We put up a tent and hosted 150 people! The last two years, we've raised over $250,000.
I have been the national spokesperson for PWSA | USA, I have spoken to fathers and families coast to coast, I've watched Maddie's progression – this is a journey we've been on for 19 years now. I'm so proud of our organization with the advancements that we've made, and the different opportunities kids have today who are born with Prader-Willi syndrome. The awareness is getting to a good place and the information available now is more truthful than dated. We have chosen to support the daily operations of family funding with the money raised at the Hot Stove Dinner because there are families that don't even know what they're dealing with that aren't diagnosed. Our biggest heartbeat for this is to help the families with kids who have Prader-Willi syndrome find out it is Prader-Willi syndrome, and then what the next steps can be. If they need financial aid, we can also provide financial support for our families.
Karla became much more involved last year (she said she came out of retirement) because this fundraiser now has a lot more moving parts to it. We're virtual and we're live. We have been lucky to receive support from PWSA | USA's staff over the years, especially Stacy Ward who has shown up with her husband year after year to help. PWSA | USA Board Member Michelle Torbert also deserves a lot of credit for all of her heavy lifting. But now, it's turned into a big deal with more staff and board support, with a lot of that due to CEO Paige Rivard's passion and vision. We even have a committee. We also brought in Leaving Legacies Foundation, who are two friends of mine I have known for years, and we finally got to a point in time where it made sense to look for some outsourcing for some of the gifting and donations. They showed up big time for our event in 2020 and have been on board ever since.
I credit the people, the truthtellers in my life that got me out of my comfort spot. We're in a good place and are expecting another really good event this year. Our expectations are filling up and will probably even get bigger! At the end of the day, with this event, we are able to reach and touch more families, children, young adults, and even older adults who have the syndrome, and are able to provide a quality of life now that maybe they didn't have before.