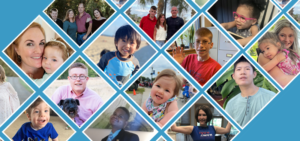 PWSA | USA is in need of pictures and videos on your loved one living with PWS. We constantly like to refresh our stories with new and diverse faces and have the need of creating a library of photos and videos shared by parents. If you have any pictures and/or videos of your child (young or older) that fit this criteria below, please click here to upload. We would love to share your experiences with our community and create awareness.
We are in search of pictures and videos that evoke emotion and show us how hard your children work!
– Kids in action
– Working out
– During therapy
– Meeting milestones
– At a Doctor's appointment (non-revealing)
– Achievements
– Family photos
– PWS Friendships
– Assets should be as high resolution as possible
– Closeups and distance shots
– Inspiring quotes that carry you through the journey
– A quick line of what you would like the world to know about your child and
– Your child's name
For the protection of your child, please do not use pictures of children that are not completely clothed or that can appear to be revealing in nature.
———————————————————————————————————-