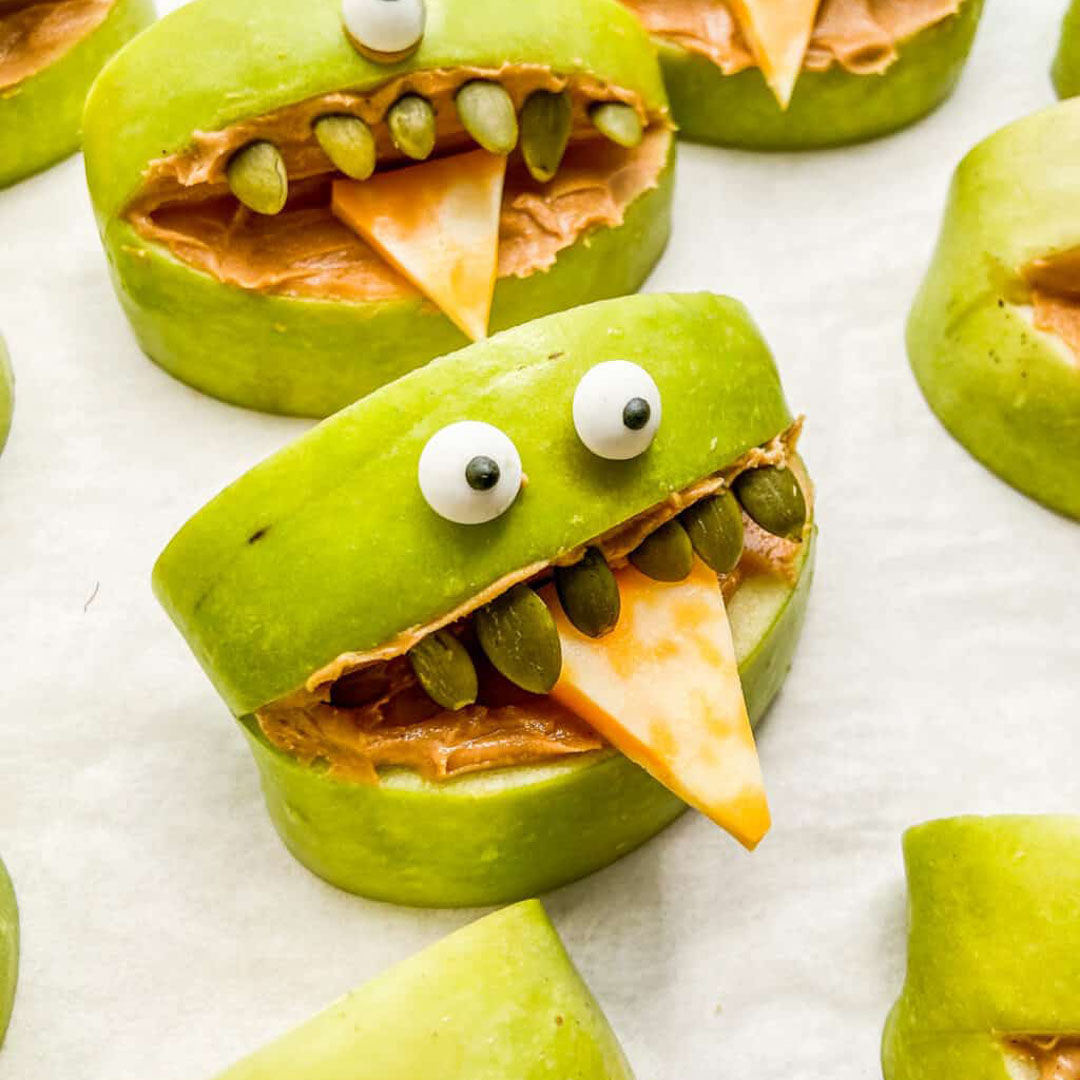 Silly Apple Monsters
Ingredients:
3 green apples

3 tablespoons creamy peanut butter

2 ounces of sliced cheese (cheddar or colby jack both work)

2 tablespoons of pumpkin or sunflower seeds

A package of candy eyes
Instructions:
Quarter the green apples and slice off the core and seeds. Carefully cut out a v-shape into the center of the apple quarter to create the mouth of the monster. Repeat with all the apple pieces.

Spread a thin layer of peanut butter into the monster mouths. Repeat with all apple slices.

Press several pumpkin or sunflower seeds onto the top of the mouth along the edge to form teeth. Repeat with all apple slices.

Place a triangular piece of cheese into each monster mouth.

Using the remaining peanut butter, spread a small amount onto the back of the candy eyes and place them on top of the the apple slices.

Serve immediately!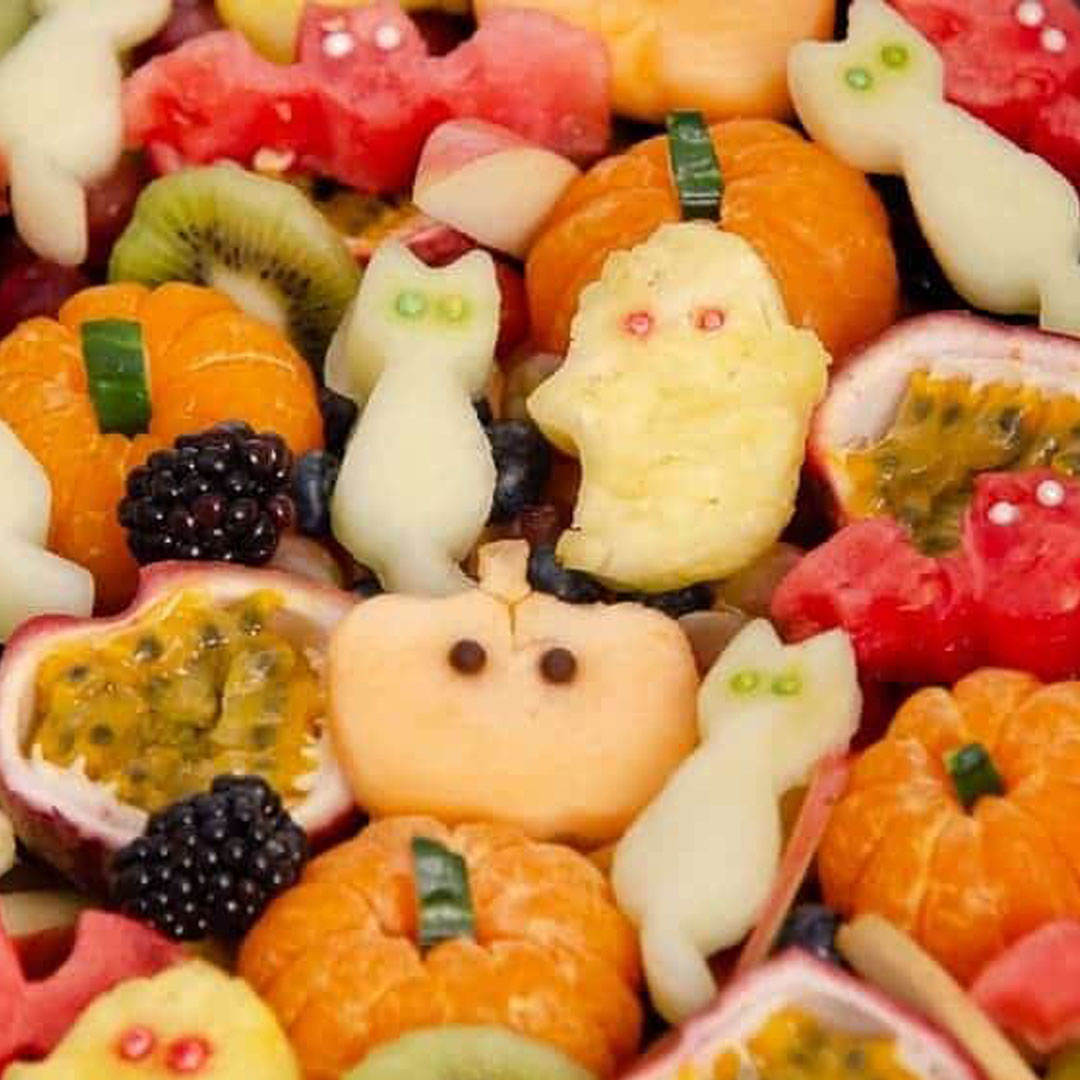 Halloween Fruit Salad
Ingredients:
2

 

Passion Fruit

1

 

Apple

2

 

Pears

½

 

Bottle

 

Soda Water

 

used to stop apple and pear turning brown

2

 

Kiwi

1

 

Blueberries

1 

Grapes

1

 

Blackberry

4

 

Satsumas

2

 

slices

 

Cucumber

 

cut into for pumpkin stalk chunks
Instructions:
Slice apple & pears into thin slices

Soak the apple and pear in a bowl with soda water, keep in the fridge until you've finished the other steps

Remove skin from all of the melons and the pineapple

Slice melons and pineapple lengthways to maximize the number of shapes able to cut from it

Use Halloween cutters to cut out shapes in the melon and pineapple slices. Cut the leftover melon and pineapple into chunks

Prepare the other fruits

Start layering the leftover chunks of melon or pineapple on to a plate or shallow bowl, then start adding the other fruits

Once plate/bowl starts filling up place your Halloween Shapes on top. Use the smaller fruits, such as red grapes and blueberries behind them to help stand them up

Use a cocktail stick to make holes ready to stick in eyes

Push your chosen decoration as eyes into the holes

All done, keep covered and refrigerated until ready to consume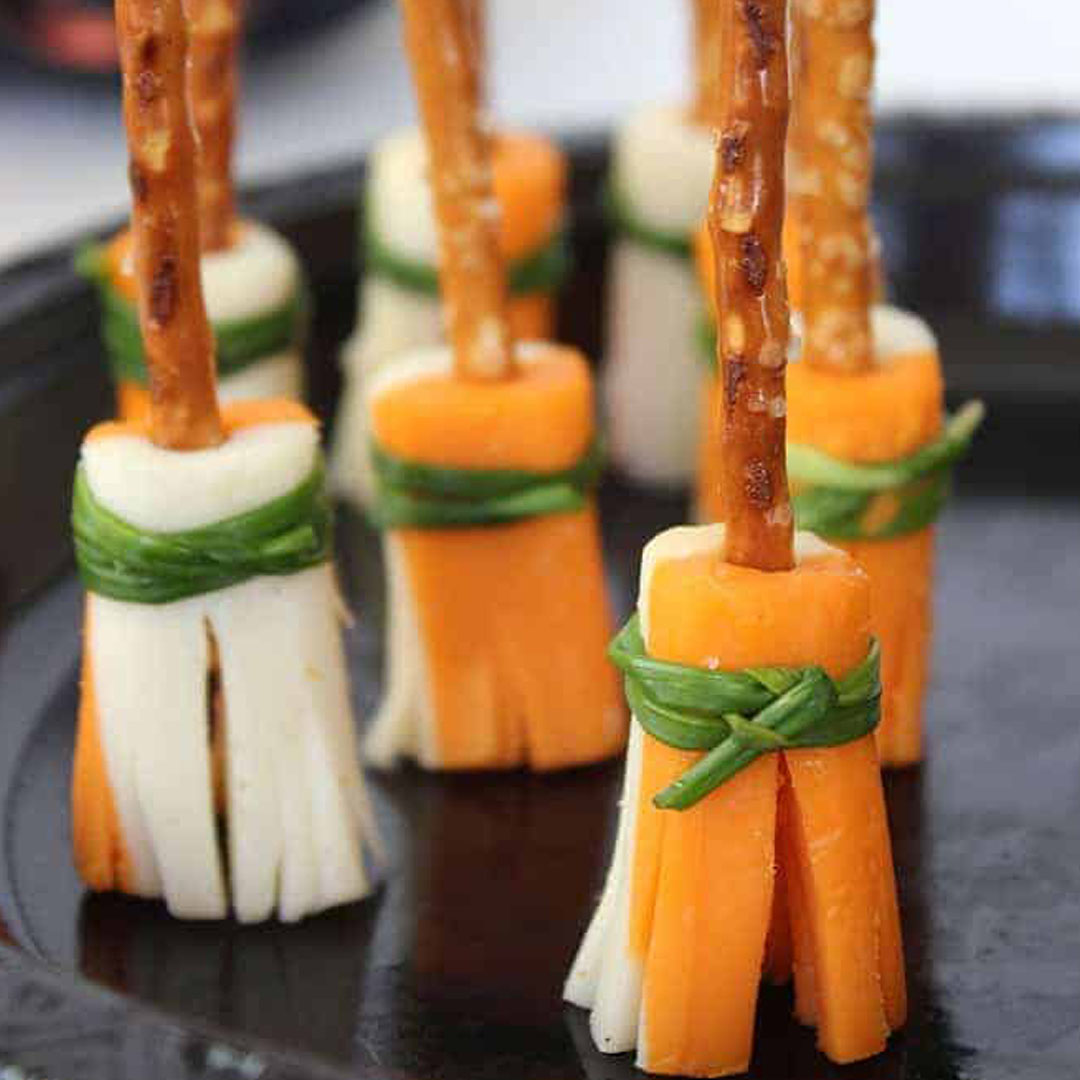 Witches Broomstick Snack
Ingredients:
8

 

String Cheese Sticks

24

 

Pretzel Sticks

Fresh Chives
Instructions:
Cut each string cheese stick in thirds (about 1 ½" each).

Make lengthwise cuts around the cheese stick to about half way up.

In the uncut end of the cheese, insert a pretzel stick.

Bind with a piece of chive. Cut off extra chive.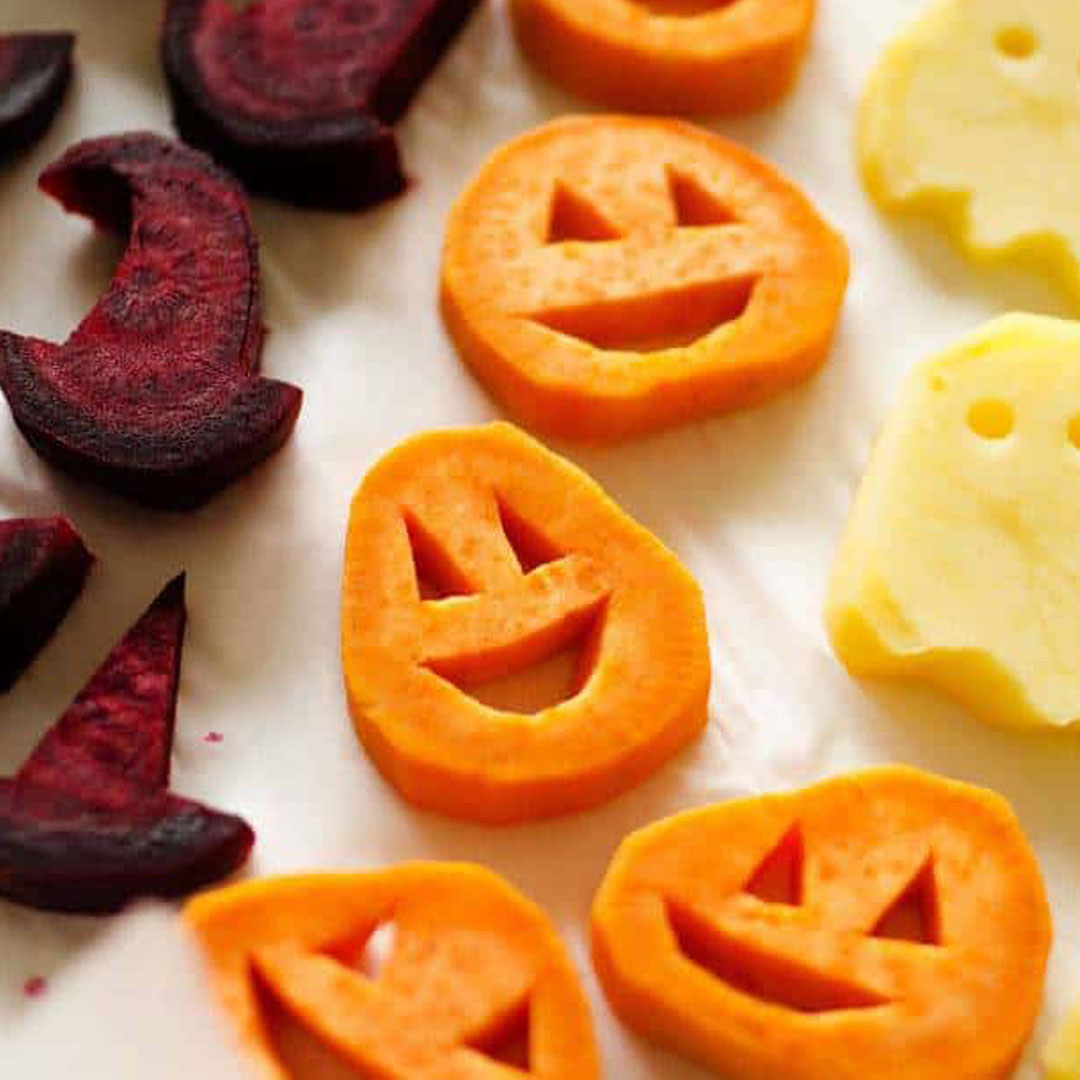 Halloween Roasted Veggies
Ingredients:
2

 

large

 

sweet potatoes

2

 

large

 

white potatoes

4

 

carrots

 

peeled

3

 

red beets

 

large, medium

2

 

Tbsp

 

olive oil

 

30 mL

Pinch of salt and pepper

2

 

Tbsp

 

rosemary

½

 

bulb garlic

 

cloves separated with skin still on

1

 

tsp

 

balsamic vinegar

 

5 mL

1

 

tsp

 

honey

 

5 mL, or maple syrup for vegan option
Instructions:
Parboil: Bring a large pot of water to a boil. Cut sweet potatoes and white potatoes in half, width wise, then drop into the boiling water. Boil for 5 minutes, then remove. Drop whole beets and carrots into the boiling water and cook for 5 minutes.
Cut: Cut the potatoes into ½ inch thick (1 cm) slabs. With a small paring knife or with a cookie cutter, cut jack-o-lantern shapes into the sweet potatoes. Do the same for the white potatoes, cutting them into ghost shapes (I used a straw to cut out the eyes!) Cut beets into ½ inch thick slabs, then cut out witch's hat shapes. We'll call the carrots witch's fingers and just leave them be.
Bake: Preheat oven to 400 degrees F (204 C). Set veggies on a parchment-lined baking sheet. Drizzle with oil, sprinkle with salt, pepper, and rosemary leaves, and toss to evenly coat. Crush garlic cloves with the flat part of your knife and scatter around the pan. Bake for 1 hour, flipping the vegetables halfway through. When you have 10 minutes left, drizzle balsamic over the beets and honey over the carrots, then return to the oven.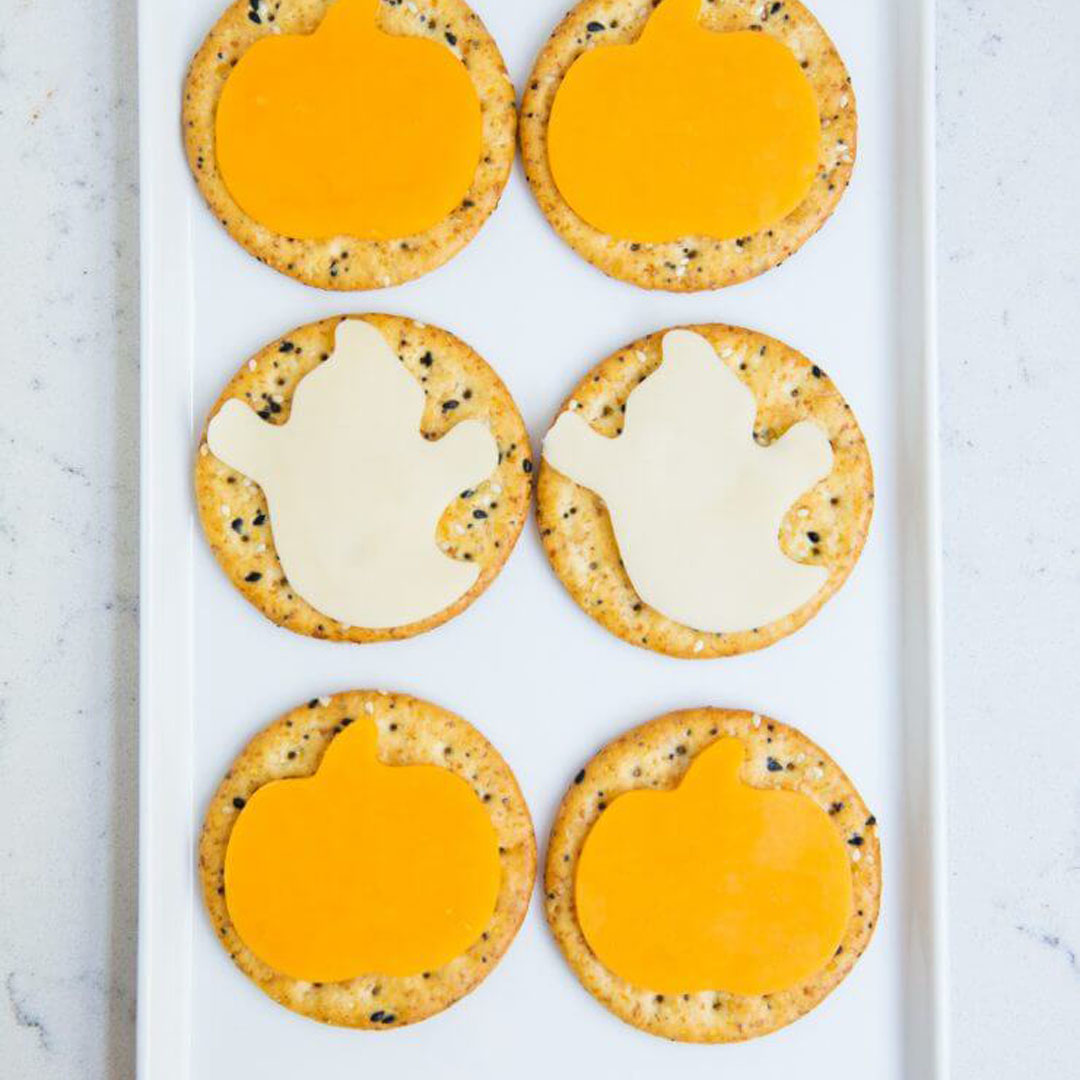 Halloween Cheese and Crackers
For these you will need crackers, cheese slices and a small cookie cutter. Simply cut out Halloween shapes (like a pumpkin or ghost) and place on the cracker.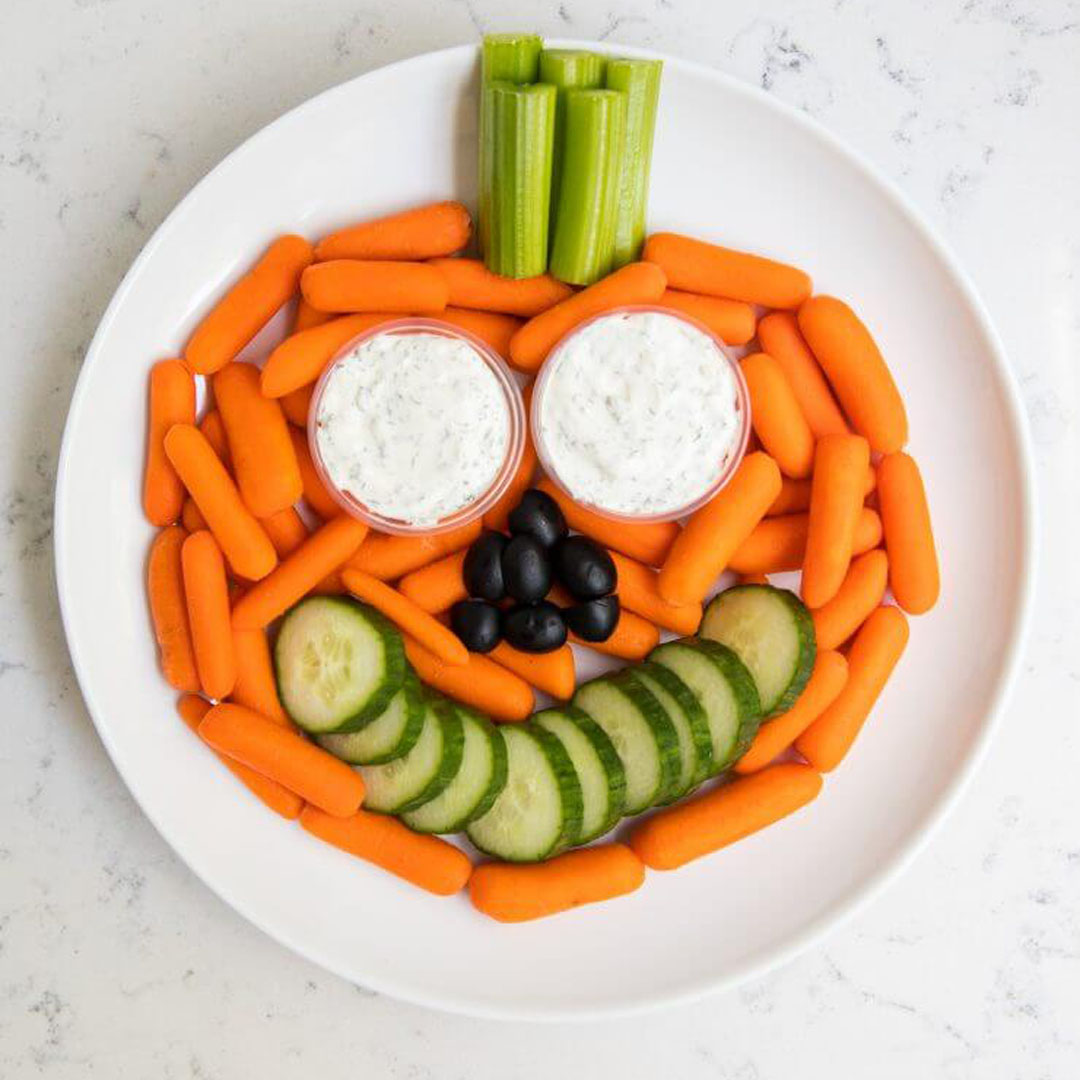 Halloween Veggie Tray
For the pumpkin Halloween veggie tray, you'll simply place a ranch or dill dip into two small containers for the eyes and set those on a large plate. Then make a circle out of carrots. Use chopped celery sticks for the stem, olives for the nose and cut cucumbers for the mouth. You could also add in a variation of vegetables (or more olives) around the edge of the plate, but I find most kids prefer carrots.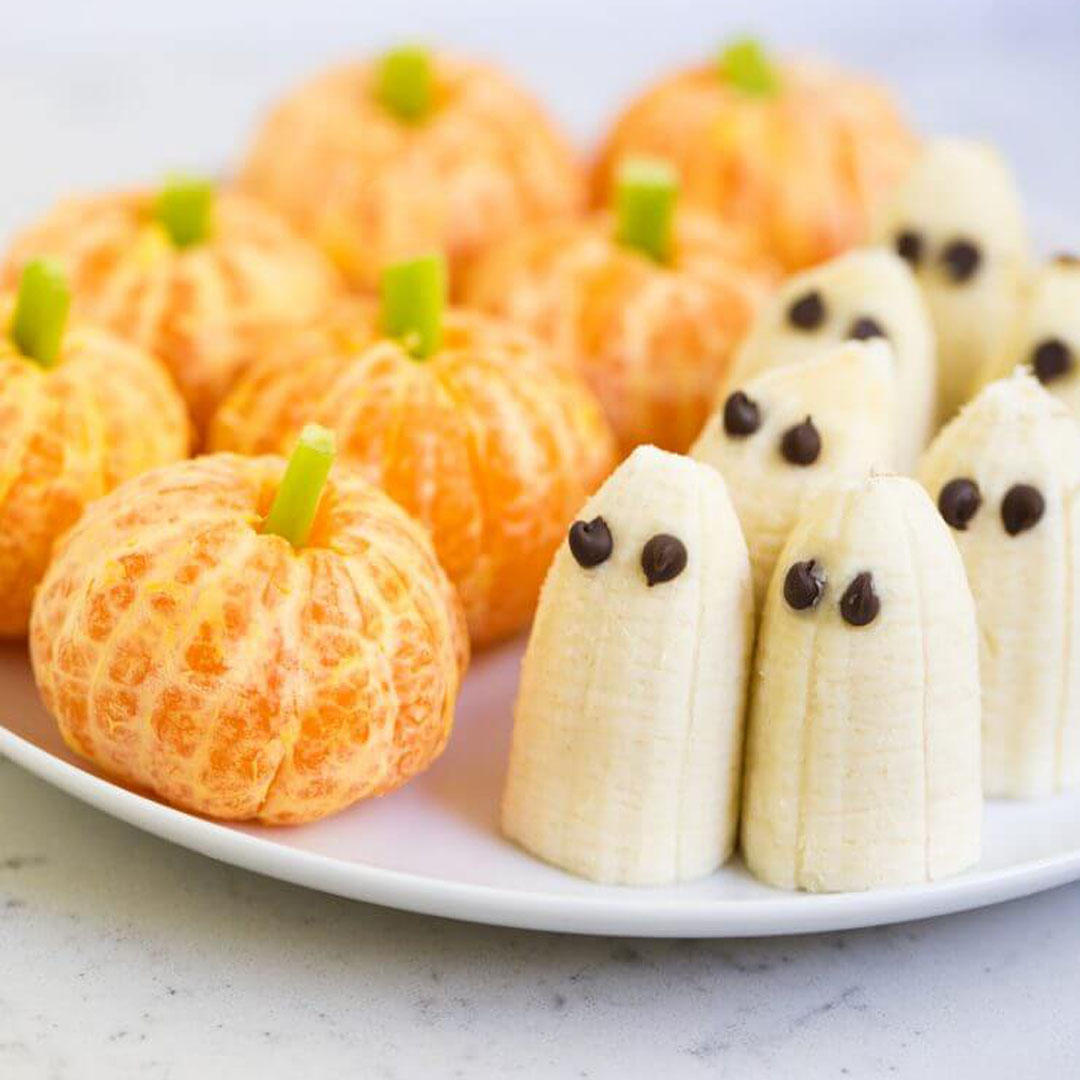 Mini Orange Pumpkins and Ghost Bananas
For the oranges, simply peel the orange and then place a tiny piece of celery on top for the stem. Then for the ghost, simply peel the banana, cut into thirds and place two mini chocolate chips on the top for the eyes. If you wanted to leave the skin on, you could draw a jack-o-lantern face onto the orange and a ghost face onto the banana.