Hot Stove Dinner – Tickets NOW AVAILABLE!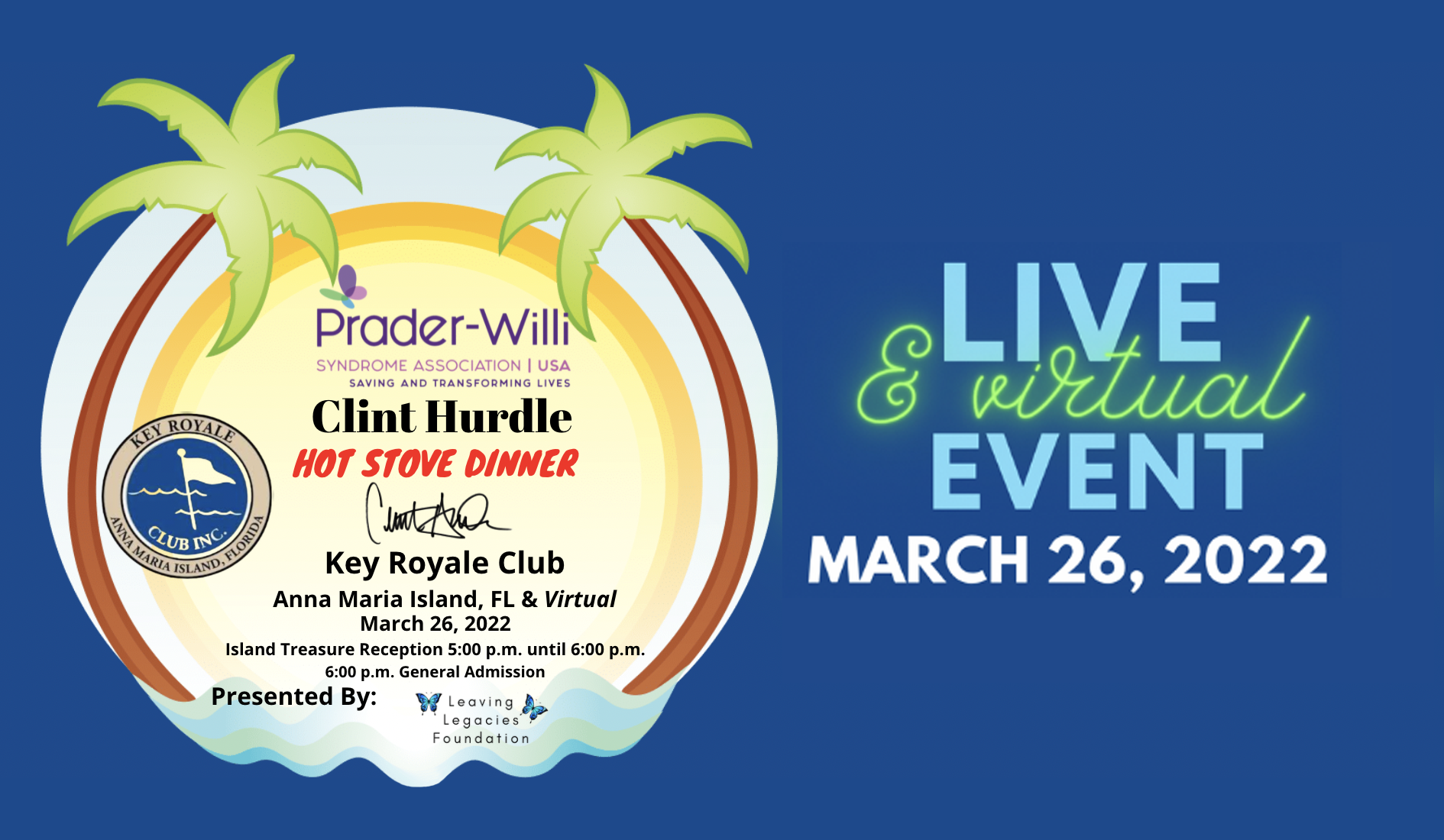 SIP, SAVOR AND SUPPORT PRADER-WILLI SYNDROME ASSOCIATION | USA. WHILE ENJOYING THIS OUTDOOR EVENT ON THE BEAUTIFUL GROUNDS OF THE KEY ROYALE CLUB, ANNA MARIA ISLAND, FLORIDA.  THIS EVENT CAN BE ATTENDED IN-PERSON OR VIRTUALLY!
IN-PERSON AND VIRTUAL GUESTS WILL SWAY TO THE SOUNDS OF THE STEEL DRUM BAND AND LEARN ABOUT THE EXTRAORDINARY WAYS PRADER-WILLI SYNDROME ASSOCIATION | USA EMPOWERS THE PWS COMMUNITY THROUGH SHARED EXPERIENCES, RESEARCH, EDUCATION, ADVOCACY AND SUPPORT.
YOUR GENEROUS CONTRIBUTIONS WILL ENABLE THE ONLY NATIONAL PWS SUPPORT ORGANIZATION IN ASSISTING INDIVIDUALS WITH THE SYNDROME, AND THIER FAMILIES, EVERY STEP OF THE WAY!
INCLUDES; TWO DRINK TICKETS AND PLATED MEAL FOR IN-PERSON ATTENDEES.  VIRTUAL AND IN-PERSON GUESTS WILL HAVE THE  OPPORTUNITY TO BID ON ONCE IN A LIFETIME EXPERIENCES AND LUXURY TRIPS IN THE LIVE AUCTION, PARTICIPATE IN THE "COCONUT HELICOPTER DROP" (HELICOPTER GOLF BALL DROP), ARRAY OF SILENT AUCTION LOTS/ EXPERIENCES AND RAFFLES.  COCONUT DROP (HELICOPTER GOLF BALL DROP) CHANCES AND RAFFLE TICKETS CAN BE PURCHASED BY BOTH IN-PERSON AND VIRTUAL GUESTS.  VIRTUAL GUESTS WILL BE CONTACTED BY EVENT ASSISTANTS TO ASSIGN YOUR COCONUT DROP NUMBERS AND FOR YOU TO NOTIFY THEM AS TO WHICH RAFFLE LOT NUMBERS YOU WISH YOUR TICKETS PLACED.   OUR VIRTUAL GUESTS WILL ALSO ENJOY ENTERTAINMENT BY COUNTRY MUSIC ARTIST MAX FLINN.
PLUS VIRTUAL SWAG BAG LINK FOR EACH GUEST.
*** STRICT COVID-19 PROTOCOLS WILL BE ENFORCED IN ACCORDANCE WITH HOLMES BEACH GUIDELINES. INCLUDING: FACE MASKS TO BE WORN AT ALL TIMES EXCEPT WHEN EATING OR DRINKING AND SEATED AT A TABLE, TEMPERATURE WILL BE TAKEN AT REGISTRATION, AND SOCIAL DISTANCING WILL BE PRACTICED WHEN APPROPRIATE.