ECHO 4 PWS – Endocrinology 101
September 26 @ 6:00 pm

-

7:00 pm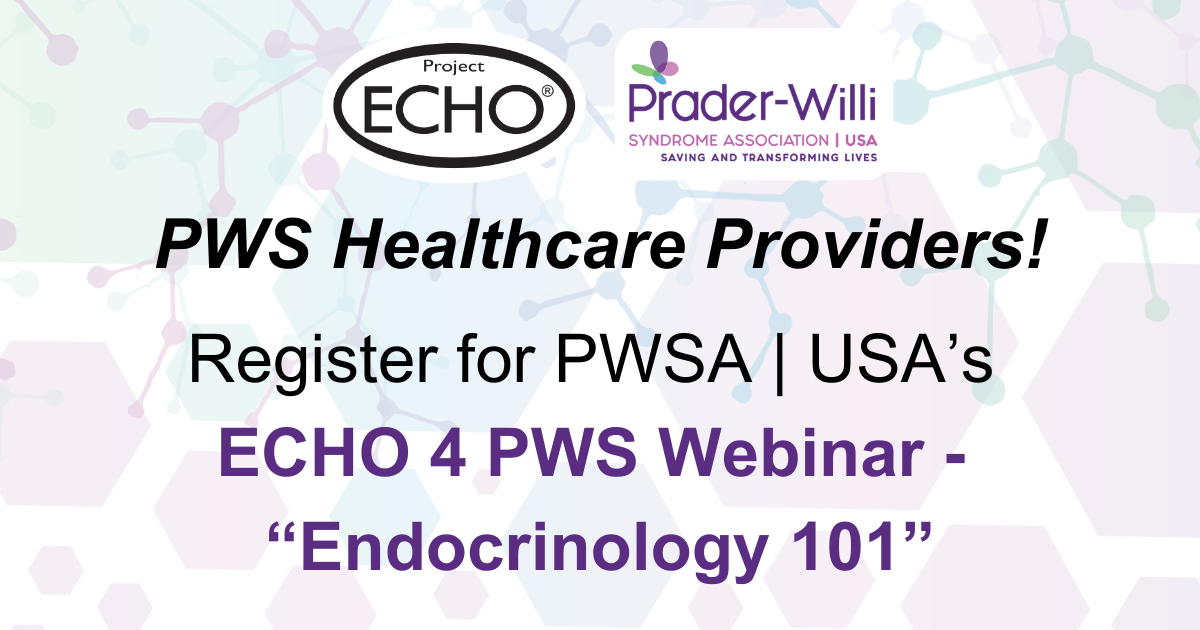 Register TODAY for PWSA | USA's next Healthcare Provider Project ECHO Series webinar, Endocrinology 101, which will be held Tuesday, September 26, 2023 at 6:00 p.m. EST. We are proud to offer this FREE opportunity to healthcare professionals who work with patients affected by Prader-Willi syndrome (PWS) or are interested in learning more about PWS, and to be the first PWS organization to implement Project ECHO in the United States.
Endocrinology 101 will be presented by Jennifer Miller, MD, Professor of Pediatric Endocrinology, Gainesville, FL, followed by a 20–minute case study on PWS presented by Moris Angulo, MD, Pediatrics, Genetics, and Pediatric Endocrinology, Catholic Health Physician Partners.
PWSA | USA's Healthcare Provider Project ECHO Series will touch on a wide range of healthcare topics in the PWS space and will be available for all health professionals across our network including (but not limited to): Geneticists, Pediatric Endocrinologists, Neonatologists, Nurses, Pediatricians, Endocrinologists, Psychiatrists, Psychologists, Social Workers, Occupational Therapists, Physical Therapists, Pulmonologists, Orthopedic Surgeons, Dieticians, Physiotherapists, Speech and Language Therapists, Medical Students and Professional Caregivers.
While this ECHO series is only for healthcare providers to attend, recordings of the webinars will be made available for our PWS families on our website.