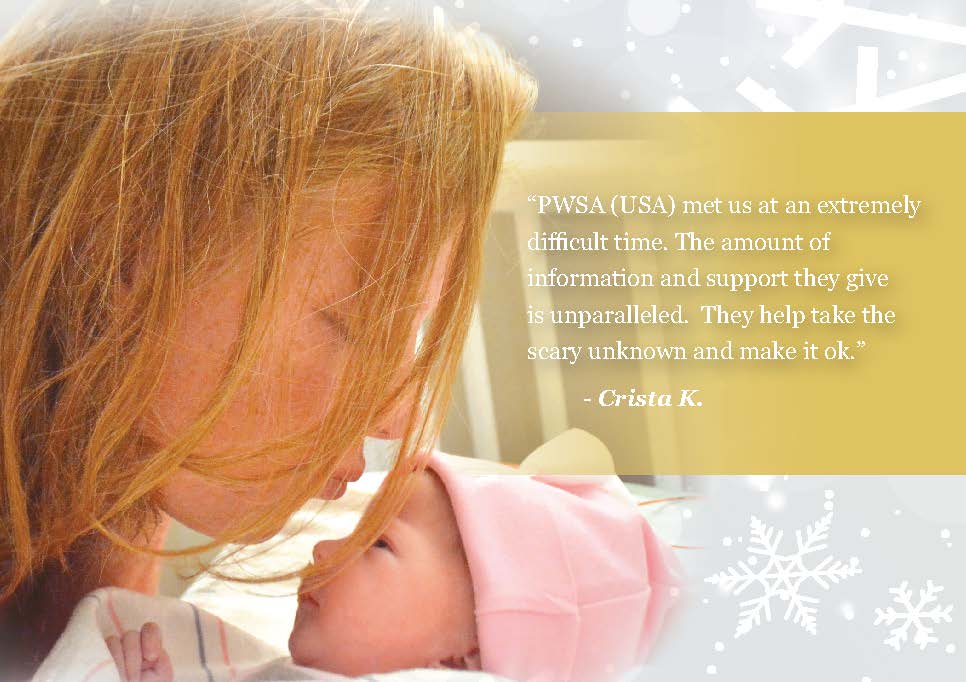 For over 40 years, PWSA (USA) has channeled the love, compassion, and hope of our supporters into ground-breaking research, effective advocacy, comprehensive family support programs, education, and greater awareness. These initiatives have brought hope, health, and enhanced quality of life to thousands of individuals with PWSand their families, giving them strength to thrive in the face of a rare genetic condition. But, we still have work to do, and we need your help to do it.
When you support the 2018 Angel Drive campaign, you are joining a community of individuals, families, and professionals all working together to make a real and meaningful difference in the lives of others. Because PWSA (USA) receives no reimbursement or funding for the services and programs it provides, we rely solely on the generosity of our supporters to make change possible. Your gift is an investment with a priceless return.
Because donors just like you have committed to becoming PWSA (USA) Partners in Hope, thousands of families have found the support and resources they need to thrive in the face of a rare genetic condition. 
Your Gift Matters
In the past year, PWSA (USA) has helped hundreds and hundreds of families by providing a continuum of care and a lifetime of support not found anywhere else in the Prader-Willi syndrome community. 
As a 2018 Partner in Hope, your gift will help pay for the resources the PWS community has come to rely on. Regardless of size, your donation matters.
Everything we do is made possible by you. Thank you.