THANK YOU to everyone who attended PWSA | USA's 2023 National Convention, and to those who presented, volunteered, and sponsored this unforgettable event!
We sincerely appreciate you making the trip to Orlando and participating in our Medical and Scientific Conference, Professional Providers Conference, Family Conference, PWS Camps, FDA Externally-Led Patient-Focused Drug Development Meeting, and Hope United Gala. We are inspired by our community's unwavering commitment to improving the lives of our loved ones.
The impact of this Convention will extend far beyond the walls of our session rooms. It will ripple through our homes, schools, workplaces, and communities, influencing change and fostering a more inclusive society. Together, we are United in Hope!
What Attendees are Saying About PWSA | USA's 2023 National Convention
We are so grateful for the outstanding Conference! All who participated were impressed by the thoughtful program, the informative sessions, and the special bond created among us all. Importantly, the powerful interactions did not stop when the meetings were over: the event gave rise to new collaborations united in the Hope to bring safe and effective drugs to those with PWS!
The event was a tremendous success, and having the opportunity to attend the Gala was a real honor. Listening to the accounts of those with PWS and their families was powerful and moving, but equally powerful was seeing the PWS community come together so warmly at the Gala. I briefly saw the kids' Gala set-up before I came over, and it looked like the kids were going to have an amazing time as well.
I have attended numerous medical conferences, family conferences, EL-PFDD meetings, and galas across a vast range of therapeutic areas (although never all in the same week), and this surpassed them all. The details of the conference were also very inclusive and accessible, including the clinical trial panel, siblings panel, the siblings camp, Dad's Den, and ALS translator. Numerous families that I met were so thankful for the opportunity to be connected with their "second family."
Congratulations on an amazing meeting! The sessions were both informative and impactful. I honestly cannot think of anything that should have been thought of that was not addressed. The Gala was outstanding and so much fun! Thank you for a wonderful meeting.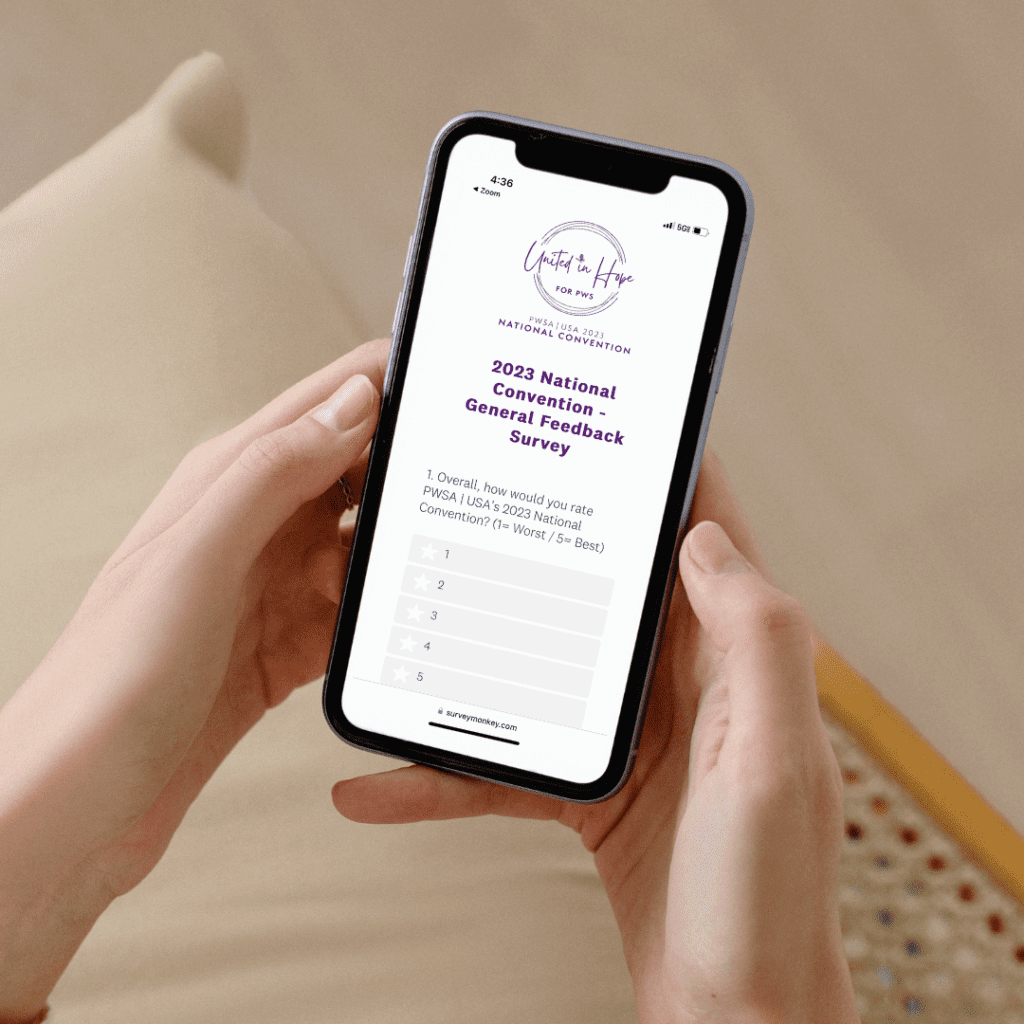 Don't Forget to Participate in our 37th National Convention Surveys
For those who attended, we encourage you to click the buttons below to participate in our general Convention and PWS Camp surveys (if you haven't done so already). Your feedback will help us prepare for future Conventions!
During the EL-PFDD meeting, attendees were asked to share what significant symptoms of PWS impact their lives aside from hyperphagia. The below word cloud was created with the answers provided. Click the image to view a larger version of this word cloud. We appreciate everyone who participated in this exercise, which will be included in our Voice of the Patient Report.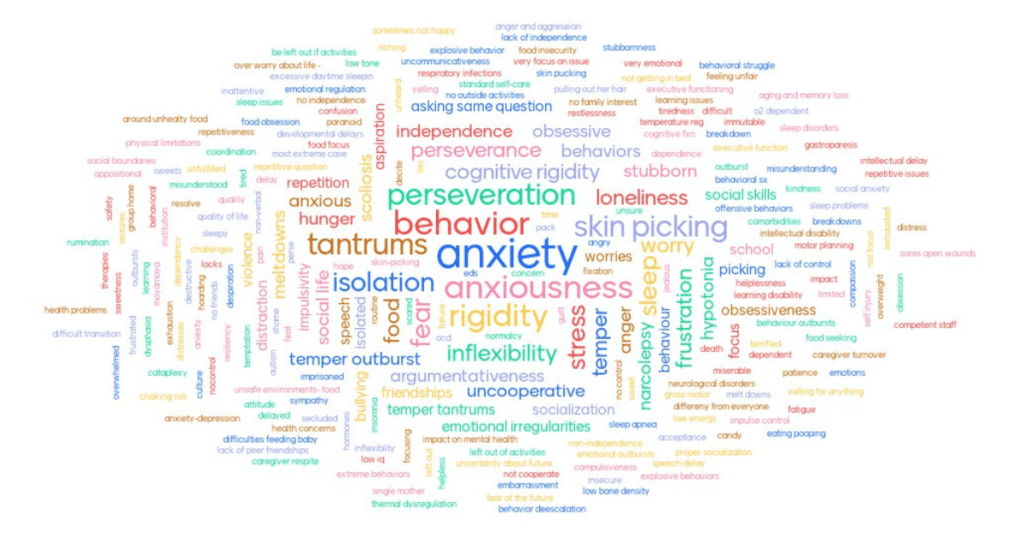 Thank You to Our Sponsors!